The living room certainly doesn't feel complete if it doesn't have a sofa. Because a quality sofa will make guests feel comfortable when visiting your home . Where there are so many types of sofas that are sold on the market, you should choose the type of sofa carefully according to the needs of your home.
Each type of sofa is priced varying, ranging from three million to tens of millions of rupiah. Of course you don't have to choose the most expensive one. Come on, take a look at the reviews about the following types of sofas, so you can make the right choice.
Minimalist Sofa
This sofa variant is very popular with many people because of its simple model. Usually a minimalist sofa is also small so it is suitable for homes that are not too broad. There is a minimalist sofa made of a combination of leather and stainless steel . However, there are also those who use cloth and wood. The colors that are synonymous with minimalist sofas are white, black, gray and brown.
Traditional Sofa
If you like anything ethnic, a traditional sofa is definitely for you. Usually this sofa is made of rattan, teak, or other types of quality wood. The original color of rattan or wood is deliberately left alone to strengthen the natural impression. Traditional sofas made of wood are usually adorned with detailed and very beautiful carvings. One area in Indonesia that is popular as a traditional sofa producer is Jepara.
Sectional Sofa
This term is not yet popular among Indonesian people. In simple terms, a sectional sofa can be defined as a sofa that consists of several parts. Two or more sofas are joined together to create a large sitting area. Sectional sofa is perfect for homes with a very large living room capacity. Apart from being used as a seat for guests, this sofa can also be comfortable for relaxing activities or reading a book.
Modification of the modern sectional sofa model also allows you to load a lot of items in it. There is a special section prepared to place drinking containers, magazines and newspapers, and TV remote . This storage area can save you budget because you no longer need to buy a special wardrobe for the living room.
Sofa L
The size of the living room that is not too big can be tricked by using the L sofa. Sofa L is indeed a minimalist size. Usually one side of the sofa is equipped with a backrest while the other side is without a backrest. Not only suitable for a small house, sofa L is also right for those of you who rarely have guests. You don't need to prepare a large living room area and an expensive budget to buy a sofa.
Sleeper Sofa
There is good news for those of you who often relax or fall asleep on the sofa. You can choose a sleeper sofa as a solution. Because this type of sofa can be used as a bed. The bottom can be stretched out so that it can be used to straighten the legs. Sleeper sofa is also suitable to be placed in a private home theater room in your home.
Recliner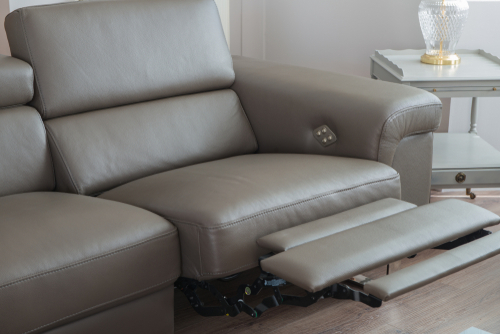 Have you heard of the recliner? One of the characteristics of the recliner compared to other sofas is the flexible leg rests and armrests. The backrest can be adjusted according to your comfort. Recliners are usually priced high and the materials are of very high quality. The use of quality materials is indeed important to minimize the risk of damage if the sofa back setting is changed frequently. Almost the same as a sleeper sofa, the recliner is also very suitable to be placed in the home theater room.
Sofa Puff
The sofa for the living room doesn't always have to have a back. To strengthen the minimalist impression, you can also choose a rectangular puff sofa. This sofa position must be placed against the wall. So that you and your guests can still sit leaning against the wall while chatting. Variations in puff sofa colors and motifs are now more diverse and can be adjusted to the taste and interior style of your home.
So, which of the seven sofa variations best suits your home's needs? If your old sofa is outdated, let's look for various types of new, higher quality and special sofas. So that the atmosphere of your living room will return to comfort for families and guests who stop by at home.